Varoufakis: 'Greece always meets its obligations to its creditors'
Comments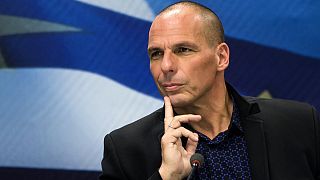 Greece will make a 750 million euro payment to the International Monetary Fund due tomorrow, Yanis Varoufakis has told Euronews.
The Greek Finance Minister told correspondent Efi Koutsokosta, minutes before the beginning of the Eurogroup meeting in Brussels, that the country will fulfil its obligations.
"Our standard answer is that Greece will always meet its obligations to its creditors and obviously we are doing this tomorrow again.
"Our expectations today is a good meeting that will reinforce the greats strides we have taken together with the institutions and create a good atmosphere so that in the next few days we can bring about the agreement point which we haven't made quite yet."