Flight recorders found from crashed military Airbus
Comments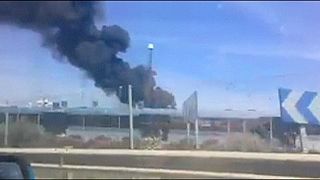 Spanish investigators have retrieved the flight recorders from the crashed military Airbus that ploughed into a field north of Seville airport on Saturday.
Four of the plane's six man crew were killed in the incident – the two survivors remain in hospital with serious injuries.
The plane was on its maiden test flight when it came down.
The military transport plane is Europe's largest defence project – each one costs around 100 million euros.
In the wake of the crash Britain, Germany and Turkey have temporarily grounded their A400Ms. Airbus says it will continue with planned test flights, the next is to take place this week in Toulouse, France.