Barcelona continue title march as Real Madrid slip up
Comments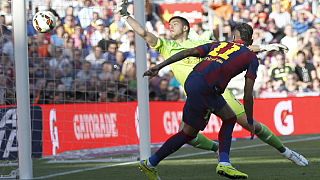 Welcome to The Corner, our weekly programme about the world of football.
Mathematically speaking, it's still all to play for in La Liga.
Barcelona lead with 90 points, four clear of Real Madrid with two games left.
But Barca's victory over Real Sociedad and Real's draw with Valencia has dealt a serious blow to Carlo Ancelotti's title aspirations.
Barcelona moved a step closer to winning a 23rd La Liga title when they beat David Moyes' Real Sociedad 2-0 at the weekend.
Neymar nodded home the first just after the restart while Pedro capped off the win with a stunning overhead on 86 minutes.
It left Luis Enrique's men with 90 points from 36 out of 38 games this season.
The Catalans edged further away from their arch rivals Real Madrid who could only muster a two all draw at home against Valencia.
First half goals from Paco Alcacer and Javi Fuego put Real Madrid on the back foot.
Although Pepe and Isco evened things up Cristiano Ronaldo's missed first half penalty turned out to be crucial as the Madrid club's title hopes appear to be crumbling away.
Up and down
It's all down this week in 'Up and Down'.
Bayern Munich are almost out of the running to reach the Champions League final and more recently they lost in the Bundesliga against Augsburg.
There had been rumours of a Pep Guardiola exit although the Spaniard later denied reports of a move to Manchester City.
It's also down for Olympique Lyonnais who slipped further off the pace in the race to win the French first division.
Only four weeks ago Lyon topped the table but after another defeat – this time against Caen – they are six points behind PSG who are now on the brink of retaining the title.
AS Roma are also table watching in Italy.
After a fine first half to the season they have stumbled at the business end.
They recently lost to AC Milan and now risk losing their second place and direct champions league berth to chasing Lazio who are a point behind with three games left.
On this day
Thirteen years ago, Lorient won their first and, so far, only trophy.
Strangely, they achieved the feat in an otherwise forgettable season.
Here's what happened ''On this day'' in 2002.
On 11 May 2002, Lorient won their first major honor despite finishing dead last in the league. And they celebrated it with an unexpected guest.
The Ligue 1 season ended one week earlier with Lorient at the bottom of the table, having managed only seven wins and ten draws on the year.
But they fared better in tournament play, finishing as runners-up to Bordeaux in the Coupe de la Ligue, then reaching the Coupe de France Final where they faced fellow league strugglers Bastia.
Bastia had gotten the better of Lorient in the league, with a win and a draw in their two meetings.
But in the final, played before a crowd of 60,000 at the Stade de France, it was Lorient who claimed the advantage with a goal from captain Jean-Claude Darcheville.
In the 47th minute, the forward beat Bastia defender Christophe Deguerville to a long ball, then chipped keeper Ali Boumnijel for the day's first and only goal.
During the post-game celebration, prankster Rémi Gaillard, wearing a replica Lorient shirt, made his way onto the pitch and proceeded to join in their celebrations.
The players failed to recognize him as an intruder as he proceeded to have his photo taken with them and the cup, and even lined up with the team to shake hands with French President Jacques Chirac.
Lorient spent four seasons in Ligue 2 before returning to the top flight in 2006.
We might be wrong
Who will battle it out on June 6 in Berlin to become European champions.
Here you have our predictions for the Champions League semi-finals, scheduled for Tuesday and Wednesday night.
If you don't agree, not a problem just send us your predictions using #TheCornerScores.
We feel Real Madrid and Juventus will see out a one all draw in Spain meaning Juventus will qualify 3-2 on aggregate.
Lionel Messi outclassed Bayern Munich to hand his side a 3-0 first leg lead and we believe the Spaniards will once more inflict defeat on the Germans and therefore progress 5-1 on aggregate.
Bloopers
That's all for today but join us again next Monday for another edition of The Corner.
But before we go check out our bloopers clip which this week sees certain high profile members of the Chelsea squad taking on a ball skill challenge at the dinner table. (see clip above)