Turkish president accused of illegal electioneering
Comments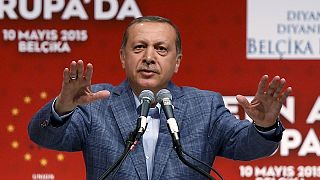 Turkish President Recep Tayyip Erdogan has called on Germany's large ethnic Turkish community to preserve their homeland's language and culture.
Speaking before an audience of 14,000 people in the German city of Karlsruhe the president also urged his countrymen to vote in Turkey's general election in June.
His comments have caused controversy as Erdogan is constitutionally bound to remain above party politics.
Reuters: Eyeing greater power, Erdogan rallies Turks in Europe ahead of vote http://t.co/vuldbOqMgg

— NewsBlogged (@NewsBlogged) May 10, 2015
However angry protesters claimed the president's appearance was an unofficial campaign stop and a clear indication that he was representing Turkey's ruling AK Party.
The AK Party which Erdogan founded is backing political reform which could bring him greater powers.
Support from Turkey's diaspora could prove key to the election outcome.
Last week, following a visit to Turkey, a delegation from the Council of Europe said it had heard "serious complaints" about Erdogan's involvement "despite a clear constitutional provision that he remains without bias".