Five police officers killed during clashes with armed group in former Yugoslav republic of Macedonia
Comments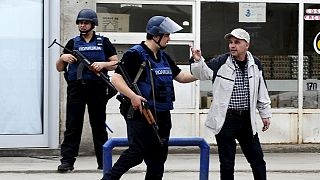 Five police officers are reported dead and more than 30 wounded in an operation against gunmen in the former Yugoslav Republic of Macedonia.
It happened in a suburb of Kumanovo, around 40 kilometres north of Skopje.
The mainly Albanian neighbourhood of the town was sealed off and residents evacuated amid a day of fighting.
"I have not slept since early this morning, I'm very afraid," said one woman.
A man added: "We heard shots this morning. We'll see what happens next."
The interior ministry said a "well trained terrorist group" had entered Macedonia with a plan to carry out attacks and members were sheltering in Kumanovo.
"We have friends and family there, we know them all," said a local resident.
"What the authorities are say, that there are terrorists there, is absurd. This is conjured up by the state. It's a policy of the prime minister, to hide other crimes."
The fighting comes as Macedonia's government faces allegations of illegal wire tapping and widespread abuse of office.
Protesters are demanding the resignation of conservative Prime Minister Nikola Gruevski.