Ceremony marks 70th anniversary of Mauthausen Nazi concentration camp
Comments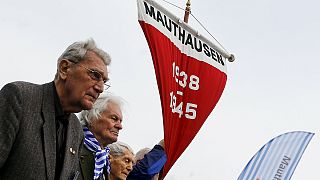 A ceremony in Austria has marked the 70th anniversary of the liberation of Mauthausen Nazi concentration camp.
A huge parade was lead by the Austrian Government delegation followed by many visitors from around the world.
During the Second World War Mauthausen was home to one of the first massive concentration camps.
An estimated 30,000 Poles are thought to have perished there.
Prisoners were forced to carry heavy stone blocks from the camp quarry. The 186 steps became known as the stairway to death.