Kyiv and Donetsk commemorate Victory Day
Comments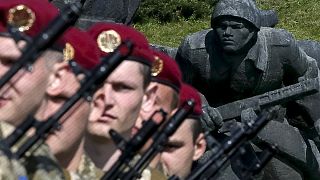 Ukrainian President Petro Poroshenko has led events commemorating the 70th anniversary of the end of World War II.
The country's military bands marched for peace in Kyiv and the president laid a wreath at the city's Tomb of the Unknown Soldier before addressing veterans of the war.
"We will defeat occupants now as well. I did, am doing, and will do everything everything that is possible and that is impossible to bring peace to Ukraine," said
Poroshenko. "I believe this is my main holiday wish to Ukrainians."
Вітаю новобранців! Слава Україні! #ПамятаємоПеремагаємоpic.twitter.com/81PjtllsgP

— Петро Порошенко (@poroshenko) May 9, 2015
Donetsk
Meanwhile pro-Russian separatists celebrated in their stronghold of Donetsk, showing off tanks used against the Ukrainian army. It was an important occasion for many.
"It is a sacred holiday for me," said one Donetsk local. "My great grandfather died defending the motherland. For me, it means everything."
Donetsk 09/05/2015 pic.twitter.com/MPofHasIBC

— Alex Thorn (@Black_Bomb) May 9, 2015