22 killed in Macedonia gun battle
Comments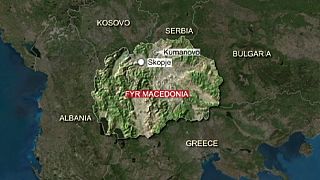 Eight police officers and 14 members of an armed group have been killed after a day-long gun battle in the former Yugoslavian Republic of Macedonia (FYROM).
The interior ministry said the 44 member group, who are all citizens of Kosovo, entered the country about a week earlier with the aim of launching attacks on state institutions.
Interior ministry spokesman Ivo Kotevski said 37 police officers were also reported wounded in the battle.
He added that "One of the most dangerous terrorist groups in the Balkans has been neutralised."
The fighting took place in the ethnically Albanian suburb of Kumanovo to the north of the capital Skopje.
FYROM is grappling with its deepest political crisis since gaining independence from former Yugoslavia in 1991.
Some people believe the government and opposition are willing to provoke ethic clashes in a bid to deliberately destabilise the country and leverage power.
Kumanovo was the centre of hostilities between Albanian rebels and government forces in 2001.
That conflict, in which 80 people died, ended after six months with a peace deal that gave more rights to ethnic Albanians.