Hungarian PM Orban wants to bring back death penalty
Comments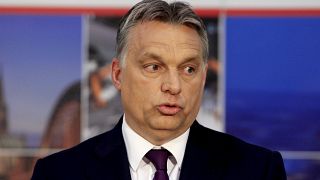 Hungary wants to reintroduce the death penalty. It may seem a surprising move for an EU member state but that's exactly what Hungarian Prime Minister Viktor Orban wants to do even though capital punishment is not permitted under EU rules.
Many politicians say any member state that wants capital punishment should leave the EU.
The European Parliament's Committee of Civil Liberties says reintroducing the death penalty would be a clear violation of EU law.
"Viktor Orban doesn't defend anything." said Louis Michel, MP of the Alliance of Liberals and Democrats for Europe. "He is destroying everything. By launching a debate on the death penalty, he is turning Hungary against the flow of history. That is the truth. Death penalty never reaches its goal. It is not right for justice to commit a crime."
Many people say Orban is trying to prevent his popularity from plummeting after support for radical nationalist Jobbik party soared.
Euronews correspondent Attila Magyar reported: "Hungarian political analysts say Viktor Orban knows that it is impossible to reintroduce the death penalty, but by 'keeping this on the agenda' he can gain some support. The latest opinion polls show that almost half of the population agrees with the reintroduction of the death penalty. So the Hungarian PM can act like the protector of the Hungarian Sovereignty again."