Russia's Progress spacecraft spins to earth after failed launch
Comments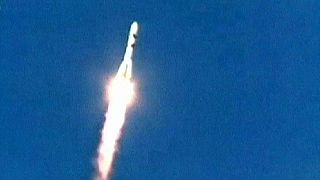 The unmanned Russian spaceship Progress has plunged back to Earth, burning up on re-entering the planet's atmosphere.
The capsule blasted off ten days ago loaded with three tons of food, fuel and supplies destined for the international space station, but ground controllers lost contact with the spacecraft just nine minutes after launch.
Russia has flown 60 successful Progress missions to deliver modules and cargo to the space station. Two have been unsuccessful. An investigation into the latest failed mission is underway.
Russian Progress spacecraft to plummet to Earth tonight, still unknown where http://t.co/BmcbzhGozOpic.twitter.com/JcDOINKl9d

— Space Trends (@Spaceolizer) May 7, 2015