Israel's knife-edge new coalition promises suspense for itself, opposition and Palestinians
Comments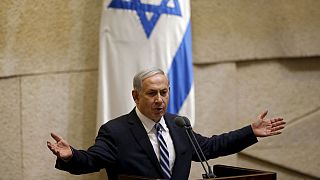 The coalition put together in extremis by Benjamin Netanyahu has made bold headlines in Jerusalem and Tel Aviv but it is fragile and already under pressure.
The prime minister struck a deal with the far-right religious Zionist Jewish Home party led by Naftali Bennett just as a midnight deadline Wednesday to Thursday was about to expire. This delivered him the requisite 61 seats in the 120-seat Knesset parliament, to govern. The two men do not see eye to eye.
On 17th March, Netanyahu defied predictions and emerged the victor in Israel's legislative elections, defeating the Zionist Union led by Isaac Herzog. The context for the 40 days of negotiations to produce a fully right wing coalition was already clear in his campaigning.
A television interviewer asked: "If you are prime minister, there'll be no Palestinian state?"
His answer: "An international initiative will be presented to revert to the 1967 borders, to divide Jerusalem. We need to form a strong, firm national government, headed by Likud, in order to push those pressures away."
So there is the challenge: hold together a government with a one-member majority in parliament, at a critical time. Israel's effort to neutralise Iran, its bedraggled ties with number one ally the US weigh heavily.
This Likud-Jewish Home formation promises nothing for any peace process with the Palestinians, who have wasted no time voicing their deep discomfort over the deal.
In Ramallah, the spokesman of Palestinian Authority President Mahmoud Abbas said: "This is a rightist government which believes in settlement activity, rejects the two-state solution and still pushes through long-term political paralysis. This will rebound regionally, dangerous not only for the Palestinian question but for the general political atmosphere in the region."
As if to confirm the peace process paralysis, Israeli anti-settlement NGO Peace Now revealed that late on Wednesday Israel approved construction of 900 settler homes in occupied East Jerusalem, in a predominantly ultra-Orthodox neighbourhood, Ramat Shlomo.