Flights resume at Rome's Fuimicino airport after fire forces shutdown
Comments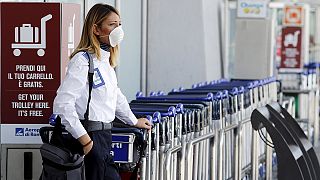 Rome's main Fiumicino airport has re-opened after being closed for 12 hours by a fire that badly damaged the main international terminal.
Despite some delays, the airport was expected to be almost fully operational by Thursday afternoon.
The fire broke out in Terminal 3, which is used for international flights.
Police are investigating, but a police source said there was no sign of arson.
The fire is believed to have been started by a short circuit in an electrical cabin that was under maintenance in an area of shops.
At least three people suffered smoke inhalation. The fire brigade said there could have been more injuries had the fire broken out during the day.
The closure caused significant disruption. Passengers who arrived for early-morning flights were not allowed inside any of the terminals.
Italy's national carrier Alitalia had cancelled all its flights to and from Fiumicino except some inter-continental arrivals.
The main highway linking the airport to the centre of Rome was closed to allow emergency access, and train services to and from the Italian capital were suspended.