UK election: frenetic last dash to convert undecided voters
Comments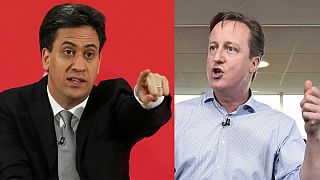 Polls ahead of the British general election put the Conservatives and Labour neck-and-neck.
Thursday's vote will likely trigger a period of negotiations with smaller parties before a new government emerges.
Neither David Cameron's Conservatives nor Ed Milliband's Labour party wanted to talk about that option, with both claiming they were aiming to win outright.
Nick Clegg's Liberal Democrats, the coalition party in the last government, vowed to keep the Conservatives or Labour on a central path if they renew their coalition deal.
Scotland is likely to feature heavily in the post-election landscape, as most opinion polls show Nicola Sturgeon's Scottish National Party is set for unprecedented gains, mainly at the expense of Labour.
The SNP's popularity is the main reason why Labour is not expected to win a majority.
Follow election night live from 10pm on May 7 on euronews.com