Four sentenced to death in Afghanistan for Koran burning killing
Comments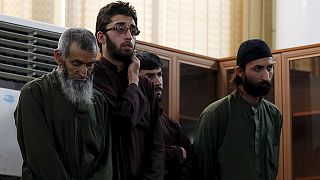 A judge in Afghanistan has sentenced four men to death following a lethal attack on a woman in Kabul.
The men were part of a mob which killed 27-year-old Farkhunda on a street in the capital on March 19.
Judge Safiullah Mujadidi gave eight other men sentences of 16 years while 18 others were found not guilty due to lack of evidence.
Farkhunda was accused of setting fire to a copy of Islam's holy book the Koran.
She was severely beaten and then set on fire.
Some of the defendants were tracked down after bragging on social media.
Nineteen police officers are also set to be sentenced later in the week for their perceived inaction.
Several protests against religious extremism and violence against women sprung up in Kabul after the killing.
An investigation later found that Farkhunda had been falsely accused.