Charlie Hebdo honoured in New York
Comments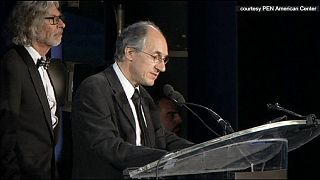 The French magazine Charlie Hebdo has been honoured with a freedom of expression award at a New York gala.
The PEN (Poets, Essayists and Novelists) American Center rewards the satirical weekly after 12 people were killed in its office in Paris in January.
The magazine was targeted by Islamic extremists after it published caricatures of the Prophet Mohammad .
Any depictions of the founder of Islam are considered deeply offensive by Muslims.
Presenting the award the writer Andrew Solomo said:
"Few people are willing to put themselves in peril to ensure that we are all free to say what we believe. Charlie Hebdo's current staff have persisted, and tonight's award reflects their refusal to accept the curtailment of lawful speech through violence."
Not all agreed however and six prominent writers pulled out of the ceremony in protest.
One Novelist who withdrew, Rachel Cushner, said she didn't feel comfortable with the magazine's "cultural intolerance."
More than 100 others wrote a letter of protest.
The Charlie Hebdo Editor-in-Chief, Gerard Biard collected the award with the magazine's film critic Jean-Baptiste Thoret.
"Jean-Baptiste and I are very proud to be here and to receive this prestigious award," Biard said.
"Even if some seem to think that giving this award is an outrage. Thank you so much so much for those who support us."
The award comes just two days after a pair of gunmen opened fire on visitors at an exhibit of Prophet Mohamed caricatures in Texas.