Up to 500 Nigerians freed from Boko Haram captivity over the past week
Comments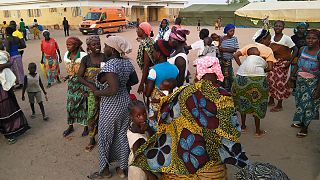 The Nigerian military says its continuing to liberate women and children from Boko Haram captivity in the north-east of the country.
The army says the latest group were found in the Sambisa forest and taken to a displaced person's camp at Yola.
Amnesty International says that around 2000 women and children had been captured by the militant Islamist group and forced to be sexual slaves, fighters or cooks.
Nigeria's military says it is confident it has the group cornered, but that a final attempt to push them from forest hideouts is being hampered by landmines.
Boko Haram's insurgency has killed thousands and forced around 1.5 million people from their homes over the past six years.
Officials say 200 schoolgirls, known as the Chibok girls after the town where they were seized from, are not thought to be among those rescued by the army.
Boko Haram has made no public comment since early March, when it pledged allegiance to Islamic State militants