French and Italian ships rescue thousands of migrants in the Mediterranean
Comments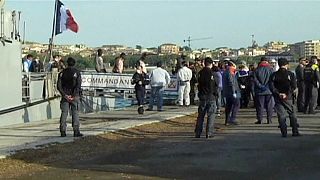 A French ship has docked at the Italian port of Crotone bringing over 200 migrants it had rescued off the coast of Libya on Saturday.
They were just a small contingent of more than 4,800 people picked up from boats in the Mediterranean over the weekend in what looks like being the biggest rescue operation of its kind so far this year.
Nearly 4,100 migrants rescued from boats in the Mediterranean as the influx of those trying to reach Europe continues http://t.co/hDmUrwU7Kg

— Jamal Osman (@JamalMOsman) May 3, 2015
Security workers searched the migrants as they disembarked before being bussed to a reception centre.
All of those rescued are being being brought to Italian shores, including Lampedusa, Italy's southernmost island, and Trapani, Sicily.
Last month at an emergency meeting to discuss the growing wave of people risking their lives to get to Europe, EU leaders promised to triple the funding for such rescue operations.
European Union governments have been reluctant to pay to save lives in the Mediterranean for fear of encouraging more people to make the crossing but outrage over the deaths of to to 900 people at sea last month prompted the crisis meeting.
The problem is that EU countries can not agree on what to do with the migrants in the long term.
Europe HAS to have a plan. Safe, economically viable enclaves in Africa better than a new Sicilian underclass: http://t.co/7fXdTC3Zhe

— Adrian Mourby (@AdrianMourby) May 3, 2015
During Saturday and Sunday some 10 Italian vessels, four private boats along with the French ship have worked non-stop plucking people from overcrowded wooden and rubber boats.
The authorities in increasingly lawless Libya , the last point on one of the main transit routes to Europe also claim to have detained a further 500 migrants in boats off Tripoli.