4,100 people rescued from Mediterranean over the weekend
Comments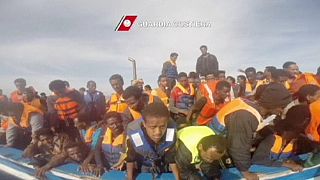 Nearly 4,100 migrants were rescued from boats near the coast of Libya on Saturday and Sunday (May 2 and 3). Rescue operations continued as people smugglers took advantage of calm seas, Italy's coast guard and navy said.
All of those rescued were being brought to Italian shores, including Lampedusa, Italy's southernmost island, and Trapani, Sicily. More were to be brought ashore overnight and on Monday.
Separately, authorities in Egypt said that three died when a migrant boat attempting to reach Greece sank off its coast. Thirty-one were rescued and subsequently arrested.
Growing lawlessness and anarchy in Libya is giving free hand to people smugglers trafficking mostly people from various parts of Africa and the Middle East fleeing conflict and poverty. The smugglers make an average of 80,000 euros from each boatload, according to an ongoing investigation by an Italian court.
Italy says as many as 5,000 migrants a week could arrive on its shores in the next five months during expected mild weather.
European Union governments have been reluctant to pay to save lives in the Mediterranean for fear of encouraging more people to make the crossing but outrage over the deaths at sea last month prompted EU leaders to triple funding for the EU Triton sea patrol mission after a migrant boat capsized and up to 900 people drowned.
Italy coordinated the weekend's rescue efforts, with some 10 Italian vessels, four private boats and a French ship acting on behalf of the European border control agency.
While the EU has stepped up its sea mission, Italy remains the country that hosts most of the arrivals in immigration centres.