Australian floods leave 5 dead, including a child, in Queensland
Comments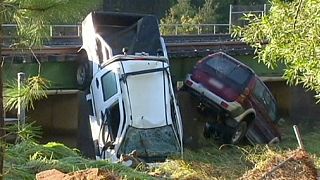 Five people have died following dangerous storms in the Australian state of Queensland.
Two cars tried to cross a flooded bridge but were swept into a river and submerged, trapping passengers inside.
The dead included three men, one woman and a five-year-old boy.
Around 30 people were rescued from cars stranded on flooded roads.
Brisbane and the surrounding areas were hardest hit with more than one thousand homes and businesses left with no power.
"There's been a number of reports made to police overnight of persons entering flooded roads, persons being trapped in their motor vehicles, people being trapped on top of their roofs and even people that can't swim," explained Police Inspector Lee Jeffries. "And the tragedy is that people are still taking risks in order to try and get through."
More than 36 centimetres of rain fell when the storm hit on Friday (May 1) most of that falling in just three hours.
Queensland residents have been warned to expect road closures as water is released from several dams.