Nepal earthquake: tourist's footage shows ancient temples crumbling
Comments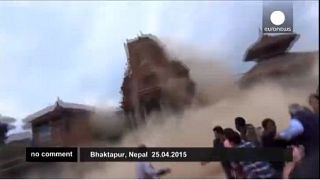 Dramatic footage captured by a tourist in Nepal shows the moments after a massive earthquake struck the country.
The clip, taken in the town of Bhaktapur, shows historic buildings crumbling after the shock.
[no comment] A tourist in Bhaktapur, a short distance from Kathmandu, caught on camera the moment Saturday's devastating earthquake hit the city causing thousands of deaths and widespread damage.

Posted by euronews on Thursday, 30 April 2015
Situated about 13 km outside the capital Kathmandu, Bhaktapur is a UNESCO world heritage site known for its Hindu temples.
A separate video, filmed from a drone, shows some of the damage to the capital itself: