Kyiv Communists celebrate May Day, perhaps for the final time
Comments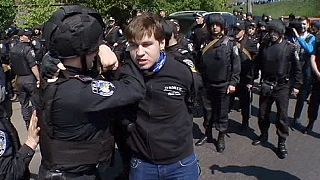 A few hundred communist activists, mostly pensioners, gathered in Kyiv with their red flags and soviet symbols to celebrate May Day.
It could be the last time communists in Ukraine celebrate workers' day in this way if a bill forbidding their symbols is signed into law by President Petro Poroshenko.
Meanwhile in #Kiev for #MayDay Communist Party had rally outside WWII Museum via HromadskeTV</a> <a href="http://t.co/9uiKW3jat8">pic.twitter.com/9uiKW3jat8</a></p>&mdash; Ian Bateson (ianbateson) May 1, 2015
Euronews corespondent Sergio Cantone spoke to historian Volodymyr Viatrovych, head of the Institute of National Memory, who explained to him that Ukraine is now moving in a different direction.
"May Day should be rejected by Ukrainians because in Russia it is being celebrated in this Soviet way," Viatrovych explained. "Now in Russia the Soviet past is being revived, something that contradicts what is happening in Ukraine where there is the Soviet past is being condemned."
Meanwhile, a small group of teenagers, self-proclaimed anti-communists, tried to crash the communist gathering.
Police prevented them from doing so and made several arrests.
Cantone reported from Kyiv's Bessarabka Square where a monument to Lenin once stood.
"This used to be one of Kyiv's most important May Day locations. This is where Lenin's statue once stood. That's a memory shared by just few people. Some communists who want to remember the workers' day. While on the other side there are some anti-communists who want to reject the sense of this celebration," said the euronews correspondent.
Time to eliminate this 1th may! "ZombieTVonline</a>: <a href="https://twitter.com/hashtag/Kiev?src=hash">#Kiev</a>. Police detains young men during Communist party rally. <a href="http://t.co/Dxnc5snYs1">pic.twitter.com/Dxnc5snYs1</a>&quot;</p>&mdash; Daniele Monigatti (DMonigatti) May 1, 2015