Airbus to file complaint over US-Germany spying allegations
Comments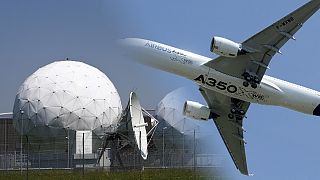 Airbus says it plans to complain to German authorities over reports of spying.
The aviation giant claims Berlin's foreign intelligence agency helped America to spy on it and other European companies.
Der Spiegel reports that officials of Germany's BND service indirectly helped the US National Security Agency (NSA) over a 10 year period.
It is claimed that BND officials passed internet addresses and mobile phone numbers to the NSA.
"We've asked the government for more information," said an Airbus spokesman in Germany.
"We will launch a complaint against an unknown person on suspicion of industrial espionage."
The reports have caused alarm in Germany, where security is a sensitive issue.
The country's Interior Minister, Thomas de Maiziere, a close ally of Chancellor Angela Merkel, has denied that he lied to parliament about intelligence cooperation with US spy agencies.
When allegations emerged in 2013 that America had bugged Merkel's mobile phone, she said that spying among "friends" was not acceptable.