Malala Yousafzai's attackers jailed for 25 years
Comments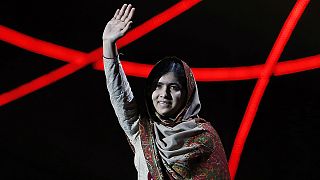 A court in Pakistan has sentenced 10 men to 25 years in jail for their involvement in the 2012 shooting of education activist Malala Yousafzai, who was 15 years old at the time of the attack.
Malala was 15 when she was shot in the head on board her school bus in Swat Valley northwest of the capital, Islamabad in 2012.
Officials said that the 10 men belonged to the Pakistan Taliban. The chief suspect did not figure among those sentenced, and according to an unnamed security source the gunmen who boarded the bus were also missing from the list.
The group were tried in an anti-terrorist court and the exact charges against them are unclear, though 25 years imprisonment is considered a life sentence.
Now 17, Malala lives in the UK where she received treatment after the attack. She is unable to return to her homeland because of Taliban threats to kill her and her family.
Addressing the UN in 2013 she told the assembly that books and pens scare extremists and called for education for all.
In 2014 she became the youngest person to receive the Nobel Peace Prize for her campaigning work.