Nepal: 'Miracle Man' pulled from earthquake rubble after 80 hours
Comments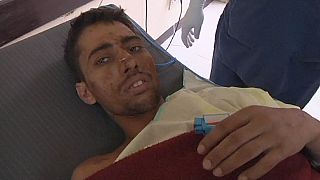 His survival is little short of a miracle.
Nepali Rishi Khanal, 28, has been pulled from the rubble of his country's earthquake after being buried alive for more than 80 hours.
A Nepali-French search team found Rishi and carried him to safety in a difficult and delicate operation.
Nepal earthquake: man pulled alive from rubble drank own urine to survive http://t.co/iglXJa1A0J

— The Guardian (@guardian) April 29, 2015
The young man had been entombed with three dead bodies in a crumbled apartment building in Kathmandu since Saturday.
With no food and no water, Rishi drank his own urine to stay alive.
And while his rescue was nigh on miraculous, one of his badly injured legs will need to be amputated.
Nepal quake: He drank his own urine to survive 80 hours under the rubble http://t.co/mFYW09zHUfpic.twitter.com/0sQu1of30O

— India Today (@IndiaToday) April 29, 2015
"I did have some hope but by yesterday I'd given up," Rishi said from his hospital bed.
"My nails went all white and my lips cracked. I'd lost all hope and I was sure no one was coming for me. I was certain I was going to die."
Outside the capital, aid has begun to arrive and the injured are starting to be evacuated.
More than 5,000 people lost their lives in Nepal's disaster with up to 10,000 feared dead.
That would surpass the 8,500 who died in a 1934 earthquake, the last tragedy on this scale to hit the Himalayan nation of 28 million people located between India and China.