Tensions rise after fourth night in the open for quake-hit Nepalis
Comments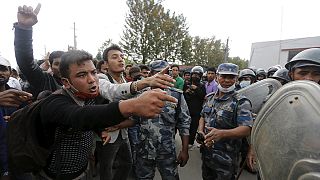 Anger and frustration are mounting in Kathmandu where many people have spent a fourth night sleeping out in the open.
Here's how you can help #Nepal --> http://t.co/QgWbYUu1OL@SavetheChildren@CARE@mercycorps@Heifer@WorldVisionpic.twitter.com/LDCwJyqcsM

— ONE (@ONECampaign) April 27, 2015
Officials concede mistakes have been made in managing the aid operation. Victims are becoming increasingly desperate.
"We haven't had any relief," said one angry Kathmandu resident.
"We are very hungry. We haven't had anything to drink. We haven't been able to sleep. I have a seven-year-old child who is sleeping in the open. It is getting cold and people are getting pneumonia. This government has done nothing. Down with the government."
Aftershocks, severe damage from the quake, creaking infrastructure and a lack of funds have complicated rescue efforts. Food, water and power are in short supply.
"This is a disaster on an unprecedented scale. There have been some weaknesses in managing the relief operation," Nepal's Communication Minister Minendra Rijal said late on Tuesday.
"We will improve this from Wednesday."
Tensions are also being reported between foreigners and Nepalis seeking relief and a way out of the capital where more aftershocks are feared.
As Indian citizens left on buses provided by their government, riot police were deployed on Wednesday as Nepalis waited and waited for vehicles promised by their authorities.