First ever rugby sevens charity match in the North Pole
Comments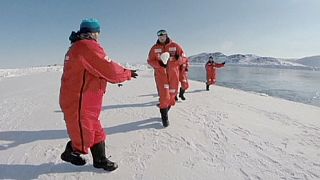 A group of intrepid rugby players have walked across 160 kilometres of sea ice in order to play the first ever rugby sevens match in the North Pole.
The charity event is in aid of the Wooden Spoon Society and organisers are looking to raise some £300,000.
The Wooden Spoon Society is a children's charity founded in 1983, when the England rugby team received the Wooden Spoon in the 5 Nations. Spoon is dedicated to helping children and young people who are disadvantaged physically, mentally or socially by using sport as a method of improving lives while harnessing the spirit and values of rugby.