Empty-handed, but smiling: US and Japan fail to agree on trade pact
Comments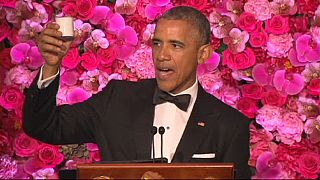 US President Barack Obama and have Japanese Prime Minister Shinzo Abe emerged smiling, but empty handed, from talks in Washington.
The two nations have failed to agree on a trade pact, but Obama says both are committed to a quick resolution.
Centred around cars and agriculture, the negotiations have held up talks over the wider Trans-Pacific Partnership, involving ten other countries.
The president also assured Abe of America's commitment to defending Japanese territory, including some small islands in dispute with China.
On Wednesday (April 29), Shinzo Abe will become the first Japanese Prime Minister to address a joint session of US Congress.