Captain of doomed South Korea ferry jailed for life for homicide by appeals court
Comments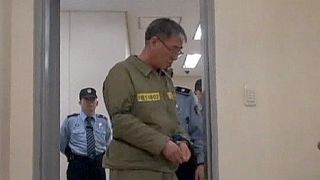 The captain of a South Korean ferry that sank last year, killing more than 300 people, was jailed for life for homicide by an appeals court on Tuesday.
It is a harsher verdict and sentence for Lee Joon-seok, who was convicted of negligence by a lower court last year and given 36 years behind bars.
While increasing the captain's punishment, the Gwangju High Court overturned a homicide conviction against the chief engineer of the ferry Sewol, finding him guilty instead of negligence. His sentence of 30 years in jail was reduced to 10 years.
And the court reduced prison terms for other crew members also in the dock.
The overloaded ferry capsized while on a routine journey in April 2014 off South Korea's southern coast. It was later found to be structurally defective.
Of the 304 confirmed dead or missing, 250 were school children on an organised trip.
Anger at the captain intensified as evidence emerged that the mostly teenage passengers waited in their cabins, obediently following orders, as the crew escaped.
Lee apologised to the victims' families during the lower court trial and said he did not intend to kill anyone. The prosecutors had argued that failing to exercise his duty to evacuate passengers was akin to homicide.
The disaster prompted an outpouring of grief across the country as heartbreaking video and mobile phone footage of the children's last moments emerged.