Burundi: police fire live rounds to disperse anti-president protesters
Comments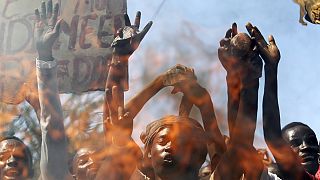 Police have fired tear gas and live rounds to disperse protesters in Burundi, as anger boils over a decision by the president to run for a third term.
The move has triggered the worst political crisis in the east African country since it emerged from civil war a decade ago.
Those on the streets accuse President Pierre Nkurunziza of breaking the two-term limit set out in the constitution and the Arusha peace agreement that ended the 12 year war.
"The right to protest, to demonstrate, is recognised by the constitution. And those who are demonstrating are doing so to protest against the annihilation of the constitution,"said Agathon Rwasa, a Burundian opposition politician.
Those supporting the president say his first term in office does not count, as he was picked by lawmakers, not elected.
Nkurunziza's spokesman has described the protests as an "insurrection."
Two demonstrators have been killed and more than 250 people arrested since unrest erupted at the weekend.
Burundi's civil war pitted the army, then dominated by the ethnic Tutsi minority, against rebel groups mostly made up of majority Hutus, one of them led by Nkurunziza. The army now includes both ethnic groups.
Authorities say about 21-thousand people have fled from Burundi to Rwanda, and about four-thousand more over the border to the Democratic Republic of Congo.