Moderate Akinci wins Turkish-Cypriot leadership runoff
Comments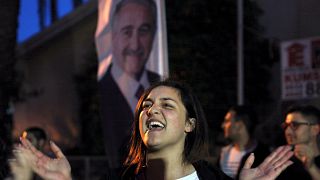 Turkish Cypriots have elected a new leader – he is Mustafa Akinci who has won with just over 60 percent of votes.
The leftist moderate who was standing as an independent has promised to push for a peace deal on Cyprus.
Moderate Mustafa Akinci elected leader of breakaway Turkish Cypriots in ethnically divided Cyprus: http://t.co/5r3GjE61ml

— The Associated Press (@AP) April 26, 2015
The island was divided in 1974 by a Turkish invasion staged in response to a short-lived Greek-inspired coup staged to secure a union with Greece.
In his victory speech Mustafa Akinci said:
"Remember what I said: No matter what they do, no matter what the threats, no matter the sweeteners(money) if the time has come for the change in a society, no power can stop that."
Sixty-seven-year-old Akinci beat incumbant conservative Dervis Eroglu who had been elected five years ago.
One voter gave his view on why Akinci had won so convincingly:
"People (decided that they) want change immediately. On top of this change there is the solution of Cyprus according to the 1977-1979 agreements. We supported Akıncı for this. We believe that the Cyprus issue will be resolved in the next 5 years."
Peace negotiations came to a halt last October, when Greek Cypriots walked out in protest over Turkish rights to explore natural gas off northern Cyprus. Talks are due to resume next month.
Readout of Special Adviser EspenBarthEide</a>&#39;s phone call with Mr. Mustafa Akinci <a href="https://twitter.com/hashtag/Cyprus?src=hash">#Cyprus</a> <a href="http://t.co/e58mKX6NsM">pic.twitter.com/e58mKX6NsM</a></p>&mdash; UN Cyprus (UN_CYPRUS) April 26, 2015
Cyprus is represented internationally and in the European Union by the Greek Cypriot government that controls the southern portion of the island. The northern Cyprus state is recognised only by Turkey and subject to international sanctions.