Northern Cyprus: election run-off pits incumbent conservative against leftist
Comments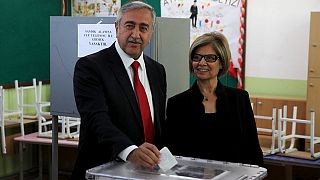 Turkish Cypriots have been heading to the ballot box, to choose a new president.
Incumbent conservative Dervis Eroglu is going up against leftist Mustafa Akinci in an election run-off on the divided island.
Eroglu notched up 28.4 percent and Akinci 26.8 percent in the first round of voting earlier this month.
Akinci, who is promising to inject new impetus into stalled peace talks with Greek Cypriots, has the support of a socialist who polled third in the first round.
Unofficial results are expected by 1900 CET on Sunday, two hours after voting ends.
Cyprus was split in 1974. Its division is a source of tension between NATO allies Greece and Turkey and also weighs on relations with the European Union.
Reunification talks have limped on for years, leaving Turkish Cypriots in political isolation and tens of thousands of Cypriots on both sides internally displaced.
The United Nations says that it expects talks to restart next month, after a six-month hiatus.
Eroglu, 77, who was elected five years ago, said this would be his last campaign.
Akinci, 67, has worked closely with Greek Cypriots in the past and says he will actively pursue confidence-building measures if elected.