Dongfeng overcomes setbacks to lead leg six of the Volvo Ocean Race
Comments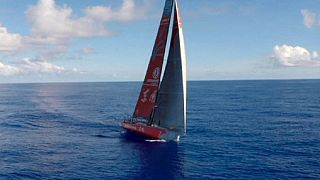 Team Dongfeng have performed miracles to overcome the two major mast setbacks that have hampered their progress in the Volvo Ocean race and are leading the 6th leg as the vessels head for Newport, Rhode Island in the United States.
The boat is in supreme shape and in the early stages the vessel is taking half a nauticle mile out of each competitor every four hours.
All six boats are sailing well and in contention and not much separates them. The all-women crew of Team SCA are currently in 4th place 15.2 nm behind the leader.
They are being tracked all the way by Abu Dhabi Ocean Racing – 19.7nm from the leader
The Spanish challenger MAPFRE is closest to the Chinese vessel trailing Dongfeng by around 4.4nm miles.
In third place are Team Brunei the fleet is expected to reach Newport between May 6-8 after around 17-19 days of sailing from Brazil through the Atlantic.
Over the next few days, they are likely to be pushed along by a two-knot current , a welcome turn of events for the skippers as the race hots up.
RANKING AT 1240 UTC
1. Dongfeng Race Team – Distance to Newport 3307.7nm
2. MAPFRE – 4.4nm to the leader
3. Team Brunel – 8.1nm to the leader
4. Team SCA – 15.2nm to the leader
5. Abu Dhabi Ocean Racing – 19.7nm to the leader
6. Team Alvimedica – 22.7nm to the leader
7. Team Vestas Wind – DIDNOTSTART