Kazakhstan to vote in presidential election set to keep Nazarbayev in office
Comments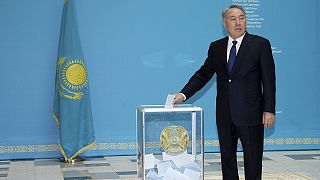 Kazakhstan is voting in presidential elections on Sunday which are likely to see President Nursultan Nazarbayev renew his 26-year rule for another five years.
He is running on a platform of economic and social stability, which many human rights groups say comes at a price, with systematic suppression of the opposition.
The 74-year-old leader called the snap elections a year early, which many believe was a move to stop speculation about a possible successor.
He faces little challenge from the opposition candidates who are seen as pro-government.
He has been in power since before Kazakhstan became independent in 1991 following the collapse of the Soviet Union.
Independent observers have yet to judge elections in the country as free and fair.