Steven Gerrard and Xavi Hernandez hit the 500-match milestone
Comments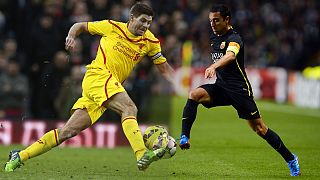 It has been a weekend of football milestones in Europe.
Steven Gerrard
Liverpool's Steven Gerrard has played his 500th match for the Premier League club.
The Reds could only manage a nil-nil draw away against West Bromwich Albion on Saturday, but this takes nothing away from the captain's achievements in football.
He's helped Liverpool to a host of major victories, including two Champions League trophies.
Internationally, Gerrard made his England debut in 2000 and played in the 2006, 2010 and 2014 World Cups – captaining his national side in the last two tournaments.
He became just the sixth England player to win 100 caps, but stepped down from his international career in July 2014 after 114 appearances,
Gerrard is just the twelfth player to hit the 500 mark with one top-flight club.
He'll leave Liverpool for LA Galaxy at the end of the season.
Xavi Hernandez
Barcelona captain Xavi Hernandez has reached the same milestone in Spain's La Liga.
It was a double victory for Hernandez as he led his boyhood club to a 2-0 away win in the derby match against Espanyol.
Following his La Liga debut in the 1998-99 season, he has gone on to become one of his generation's most iconic players.
Considered one of the greatest passers ever to play the beautiful game, the 35-year-old is now eighth in the all-time list for La Liga appearances.
Should Xavi play all remaining games this season, he will move into 7th place on the all-time list.