Court appearance over Mediterranean tragedy as more migrants come ashore
Comments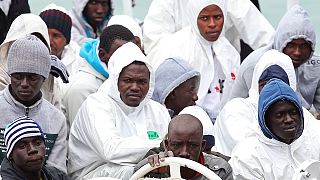 Dozens more migrants arrived at the Sicilian port of Catania on Friday.
A total of 84 people were brought to shore by an Italian coastguard vessel, after being rescued from their sinking dinghy off the coast of Libya.
Rescue services said many were suffering from the skin disorder scabies. Immediate help is at hand but the migrants' long-term future is uncertain.
Welcoming the EU's plan to expand its naval search mission, the UN says the key test is whether lives are saved and those fleeing war have a chance of gaining asylum.
Elsewhere in Catania, the presumed captain of the migrant ship that sank in the Mediterranean on Sunday – killing over 700 on board – was appearing in court.
Tunisian Mohammed Alì Malek, 27, has denied being in charge of the heavily overloaded fishing vessel. But prosecutors want him charged with homicide and people trafficking.
A presumed crew member, 25-year-old Syrian, Mahmud Bikhit, also denies being involved. He may face charges of favouring clandestine immigration but not of multiple homicide.
Just 28 people survived the disaster, believed to be the heaviest loss of life on the Mediterranean in decades.
The sea is one of the main routes into the European Union for tens of thousands of mostly Asian and African migrants fleeing war and poverty, with almost 40,000 people having arrived this year already.