Ash cloud from Chile volcano grounds flights to Buenos Aires
Comments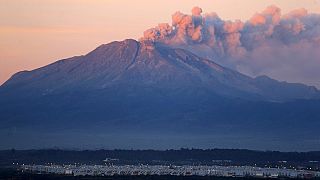 An ash cloud from Chile's Calbuco volcano has hit neighbouring countries – with several airlines cancelling flights, as
particles in the atmosphere can cause problems for aircraft.
In the southern Argentine tourist city of Bariloche, flights have been cancelled for a second straight day, some roads were closed and children were kept home from school.
Considered one of Chile's most dangerous volcanoes,
Calbuco erupted without warning on Wednesday and continues to puff out ash and smoke.
Authorities have set up a 20 kilometre cordon around Calbuco, situated some 1,000 kilometres south of Chile's capital Santiago.