Leaders gather to mark 100th anniversary of Armenia massacre
Comments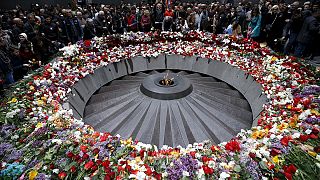 Ceremonies are being held around the world to remember the Armenians killed by Ottoman Turks in 1915.
World leaders, including the presidents of Russia, France and Serbia, gathered in the Armenian capital on Friday for the 100th anniversary of the massacres of up to 1.5 million people.
It is called a genocide by about two dozen countries and on Thursday the German President used the word, the first time it has been used officially in Berlin.
Pope Francis also recently referred to the deaths as genocide.
Turkey angrily rejects use of the term, insisting there was no organised campaign to wipe out Armenians. It says there were high death tolls on both sides.
The dignitaries who gathered at a memorial overlooking Yerevan placed flowers on a floral tribute.
The Armenian President Serzh Sarksyan told the ceremony: "We have to find a solution, before humanity once again breaks its promise that something like this should never happen again.
"The commemoration of the 100th anniversary of the Armenian genocide is a new starting point for the struggle against this kind of crime."
There was also an address from the president of France, which became home to many survivors of the massacres. The famous French singer Charles Aznavour was also among the guests; his parents fled to France after surviving the massacres.
"Commemorating a genocide is not about opening a trial," said François Hollande. "It's to evoke the suffering and the pain of those who survived and their children. It's about recognising a tragedy that was so big that it struck the whole of humanity."
The Armenian President called on more countries to recognise the killings as genocide, while the Russian President spoke about the need to learn from the past and ensure similar tragedies are not repeated.
There has been criticism from Armenians that Turkey decided to hold its WW1 commemoration for the Gallipoli campaign on the same day as the Armenian commemoration.
Ankara normally marks the anniversary of the Gallipoli campaign, where Turkey defeated the Allied forces, on April 25. But this year it was brought forward by a day.