Obama apologises after al Qaeda hostages killed by US forces
Comments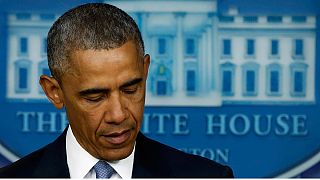 President Obama has apologised after two Western hostages were accidentally killed when US forces attacked an al Qaeda base on the Afghan-Pakistani border in January.
Warren Weinstein, an American doctor, and Italian Giovanni Lo Porto had been held in the border region of Afghanistan and Pakistan.
Obama said US forces believed the target was an al Qaeda compound with no civilians present.
"This morning I have expressed my grief and condolences to the families of two hostages – one American, Warren Weinstein, and an Italian, Giovanni Lo Porto – who were tragically killed in a US counter-terrorism operation. Warren and Giovanni were aid workers in Pakistan devoted to improving the lives of the Pakistani people," the president said at a White House briefing.
Obama added that the operation in January was also believed to have killed al Qaeda leaders.
He has ordered details of the operation to be declassified.
Describing the two Western victims as brave men, the president said he took full responsibility, promising to learn lessons from what happened.