US Navy deploys two more warships near Yemen as conflict escalates
Comments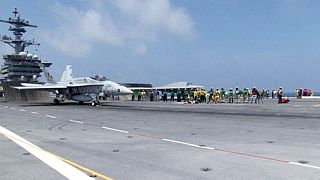 The United States said on Monday (April 20) it had sent two more warships into the waters near Yemen, heightening its military presence in the area as concerns grow over the country's civil war.
The US Navy sent an aircraft carrier and a guided-missile cruiser from the Gulf into the Arabian Sea on Sunday. It said in a statement the purpose was to "ensure the vital shipping lanes in the region remain open and safe."
The move brings to nine the number of US warships dispatched near Yemen, where Houthi rebels, said to be backed by Iran, are battling forces loyal to the US-and-Saudi-backed president.
A Pentagon spokesman, speaking to Reuters, denied reports the ships were on a mission to intercept Iranian arms shipments to the Shia Houthi rebels.
Washington has not directly intervened in the Yemen conflict so far but it supports Saudi-led airstrikes designed to stop the Houthi rebels' advance.
One of these strikes hit a Scud missile base controlled by the Shiite rebels in the capital Sana'a on Monday. The blast was described as one of the most powerful since the beginning of the bombings. It killed 25 people and wounded 400.
The aid group OXFAM said a separate Saudi airstrike had hit one of its supply stores. Most of Yemen's food needs already relied on imports before the conflict erupted, and the humanitarian crisis is worsening, aid workers and diplomats say.
Civilians have been fleeing the fighting by land and sea. The United Nations expects around 130,000 refugees will reach Somalia and Djibouti over the next few months.