Soldiers brought in to help South African police deal with anti-immigrant attacks
Comments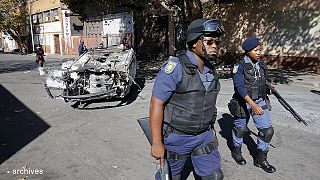 The army is being deployed on the streets of South Africa as the police struggle to deal with a wave of violence against immigrants.
Seven people have been killed in the past three weeks in Durban and Johannesburg, with the government criticised for not doing enough to protect foreigners.
The South African Defence Minister, Nosiviwe Mapisa-Nqakula, told reporters: "It is the police who must say we think at this point we do need your help.
"And once they say they need your help, then of course the commander-in-chief takes the ultimate decision, reports to parliament.
"But, of course, we will report to parliament after the fact because now we are deploying because there is an emergency to do so."
On Tuesday four men were charged with the murder and robbery of a street vendor from Mozambique.
Images of the man being beaten and stabbed to death in broad daylight have shocked the country.
Outside the court, people gathered to condemn the xenophobic attacks, and similar demonstrations have been held in countries that neighbour South Africa.
#UNHCR extremely concerned by xenophobic attacks in SouthAfrica which have displaced 5000 people http://t.co/C38EnJPYAy

— UN Geneva (@UNGeneva) April 21, 2015
PHOTOS: Inside the wave of anti-immigrant violence that is happening in South Africa right now http://t.co/6WzpKATTwUpic.twitter.com/d7kvbBzMsL

— Reuters Top News (@Reuters) April 21, 2015
South Africa deploys the army in townships hit by xenophobia http://t.co/QFoN9meibgpic.twitter.com/UJT2ij7Xt9

— Telegraph World News (@TelegraphWorld) April 21, 2015
South Africa's immigrants take stock of their future in a country that doesn't want them. http://t.co/P40ZSMcxx0pic.twitter.com/i4FMhsGUs2

— Foreign Policy (@ForeignPolicy) April 21, 2015