Grim centenary of first ever chemical weapons attack
Comments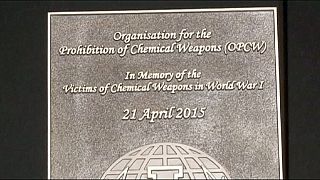 It is the most solemn of centenaries….exactly 100 years since the first large-scale use of chemical weapons.
Victims from World War One were remembered at Ypres in Belgium, where chlorine gas was first used in conflict a century ago.
Members and guests of the Organisation for the Prohibition of Chemical Weapons gathered there on the eve of the April 22 centenary and paid tribute to all those killed in such attacks.
In 2015 the use of chlorine gas as a weapon is still being reported in Syria.
But the OPCW remains committed to ridding the world of such arms once and for all.
"We have turned the legacy of chemical warfare begun in Ypres into a future that will never again know such weapons," Director General Ahmet Uzumcu told a ceremony.
"I hope that the Ypres Declaration issued at this meeting will serve to inspire us further as we work to make our world truly free of chemical weapons."
More than 90,000 people were killed as a result of chemical weapons during the First World War.