At least 3 dead as storms batter Australia
Comments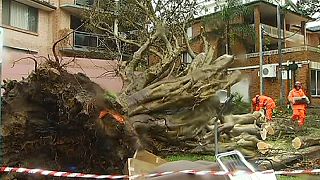 At least three people have died in powerful storms battering Australia's east coast.
A woman and two men were killed as a result of floods in the New South Wales town of Dungog, which has also seen four houses washed away following cyclonic winds and more than 30 centimetres of rain.
'Busiest night' for fire and rescure
New South Wales Premier Mike Baird warned residents not to wade into, or attempt to drive through, floodwaters.
"There is no doubt that this is a very severe storm event indeed. It's a once in sort of ten-years event. It is probably more severe than it was anticipated, so clearly the consequences are quite significant across New South Wales and it is clear that we're in the midst of very challenging weather," he announced.
Evacuation information for #Dungog residents, as provided by @nswpolice. #nswstormspic.twitter.com/rhwf7tdljZ

— Sky News Australia (@SkyNewsAust) April 21, 2015
New South Wales fire and rescue reported Monday night (April 20) was one of the busiest in its history. It's officers are believed to have attended more than 1,000 storm-related jobs between Monday afternoon and Tuesday evening (April 20-21).
Officials say 215,000 homes have been left without power, more than 100 schools closed and a cruise liner is stuck outside Sydney due to a massive swell.
A wave peaking at 11 metres was recorded by a buoy off the coast of Sydney, wiping out communications.
The storm in images
4 months worth of rain in 4 hrs at Maitland today with 246mm since 9am Pic-Lisa Michelle @SkyWeatherAUSpic.twitter.com/iC8bDc2ODl ( Amy_Green

— Sky News Australia (@SkyNewsAust) April 21, 2015
Sydney storm: East coast of Australia battered by strong winds and a month of rain in 24 hours http://t.co/LbdgNHXeJ2pic.twitter.com/D2LNZCHF2a

— Worldwide Actions (@AlwaysActions) April 21, 2015
Sydney storm: East coast of Australia battered by strong winds and a month of rain in 24 hours http://t.co/LbdgNHXeJ2pic.twitter.com/D2LNZCHF2a

— Worldwide Actions (@AlwaysActions) April 21, 2015
#SydneyStorm: #Australia east coast gets a month of rain in 24 hours: http://t.co/W0QXdt33yNpic.twitter.com/rIsMbu58fu

— David Sim (@davidsim) April 21, 2015
Three people dead in flash flooding in NSW town of Dungog #WorldNews#SydneyStormhttp://t.co/m9VMz9NT9qpic.twitter.com/4ecLwReas8

— Stuff.co.nz News (@NZStuff) April 21, 2015