Over 650 migrants feared drowned
Comments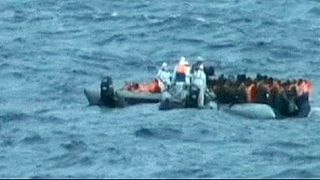 Up to 650 people are feared dead after a boat carrying migrants capsized in the Mediterranean, on its way to Italy from Libya.
The Italian coastguard launched a major rescue operation after the boat overturned at midnight local time, south of the Italian island of Lampedusa.
Twenty-eight people have already been rescued but hundreds of others are feared dead.
It's thought that the accident happened when migrants rushed to one side to get the attention of a passing merchant ship.
Around 450 migrants making their way to Italy from Libya drowned earlier this week in two separate incidents.