Insults hurled at ex-IMF chief as police carry out second search at his office
Comments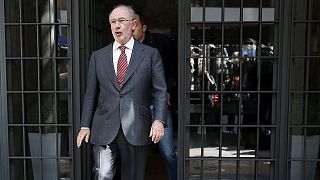 Insults were hurled at the former International Monetary Fund chief Rodrigo Rato on Friday as police carried out a second search at his office.
The Spaniard is being questioned in Madrid as part of a probe into allegations of tax evasion and money laundering.
The former conservative economy and deputy prime minister denies ever having used a foreign fiscal paradise, saying he has faith in the justice system.
As well as having his home and office searched, he has been questioned for hours by investigators.
Treasury Minister Cristobal Montoro said: "Regardless of our political colour, or our social or political level, or the political or economic power that we claim to have, we are all equal in the eyes of the law."
Documents have already been seized, but officials say there is no decision yet on whether a judge will open formal proceedings against Rato, a major figure in the ruling People's Party.
The 66-year-old is also at the centre of separate probes into allegations of fraud and misuse of funds during his time as chairman of Bankia, which was bailed out by the government in 2012.
Rato denies any wrongdoing.
The case comes as a blow to the People's Party. Local elections are due next month and the country is also gearing up for a general election near the end of the year.
Corruption has become a major concern among voters, in a country hit badly by the financial crisis and where almost one in four people are out of work.