Peace march in South Africa amid rising violence against foreigners
Comments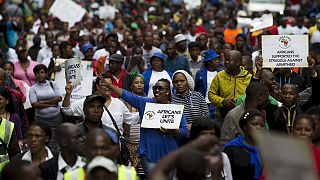 A rising wave of violence against foreigners in South Africa brought thousands of protesters to the streets for a 'peace march' in the eastern city of Durban.
Demonstrators in the largest city in KwaZuluNatal Province called for a united Africa a day after local streets were cordoned off due to clashes between locals and Somali nationals.
However, the march ended in violence, with police using rubber bullets, tear gas and water cannon to disperse the crowds.
University student, Mfanuphetheni Zulu, witnessed some of the violence: "If you look carefully, we as black people are attacking one another," he said. "I have never witnessed people attacking whites, or any other race. It is only black people attacking one another, It is clear that black people do not want to see one another progressing."
South Africa has a population of around 50 miliion, five million of whom are migrants.
With close to a quarter of the population unemployed, the jobless are blaming foreigners for taking all the work.
Earlier xenophobic attacks in the province killed at least five people, forcing many into so-called safe camps in and around the city.
Thircessi Baloyi hails from the Democratic Republic of Congo. He has taken refuge in one such camp.
"I don't know where to go, because of problems in our country," he says. "We are coming from (a) war country and some of us have some problems in our country. And we can not just decide to go home."
The violence has been going on for two weeks, with several foreign-owned or foreign-run shops looted or burned.
It has spread to other parts of the country. In Johannesburg, the country's largest city, dozens were forced to seek refuge as riot police also used rubber bullets to disperse crowds.
In 2008, similar xenophobic attacks killed around 60 people.