Cannes Film Festival lineup unveiled
Comments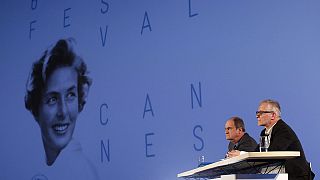 The official selection for the 68th Cannes Film Festival was unveiled on Thursday, and the stars of the lineup so far are France and women.
French female director Emmanuelle Bercot will open the festival with a screening of "La Tete Haute". The film, which is not competing for the "Palme d'Or", stars the French darling of cinema Catherine Deneuve. It follows a juvenile delinquent on his path to adulthood, with Deneuve playing a judge trying to steer him out of trouble.
With four films running for the Golden Palm, France is particularly well represented in this year's selection. Next comes Italy, with three films in competition.
Nanni Moretti, who won the Palm in 2001 with "The Son's Room", is back with "Mia Madre", about a director shooting a film while her mother is dying. And Paolo Sorrentino will present his film "Youth", starring 82-year-old Michael Caine as a retired orchestra conductor.
Among U.S. films is "The Sea of Trees" starring Matthew McConaughey and British actress Naomi Watts. It was directed by Gus Van Sant, who won the Palm in 2003 for Elephant.
Woody Allen, as usual, refused to be in competition but he will be in Cannes to show "An Irrational Man", starring Joaquin Phoenix and Emma Stone.
The 68th edition of the festival will pay tribute to the late Hollywood legend Ingrid Bergman, born 100 years ago.