US 'extremists' will not dictate Iran nuclear deal, says Rouhani
Comments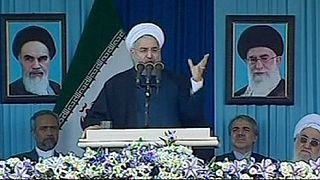 Iran has dismissed claims the US Congress could derail plans for a long-contested nuclear deal.
Speaking from the northern city of Rasht, President Hassan Rouhani said the US has "absolutely nothing to do with" the Iranian government and people. He added that the nuclear deal concerns only Tehran and the 5 + 1 powers of United Nations (UN) Security Council members, plus Germany.
"What the US Senate says, what the US House of Representatives wants, what the extremists in the US are pursuing or what America's mercenaries in the region are saying has absolutely nothing to do with our government and people. We want interaction in return for interaction. We want goodwill in return for goodwill. We want respect in return for respect…," he said.
Rouhani also echoed remarks made by Iran's Supreme Leader, Ayatollah Ali Khamenei, regarding the lifting of sanctions.
"The 5 + 1 countries, the US House of Representatives, the US Senate, the US president, the US government, everybody should know that if an end to sanctions is not mentioned in a (nuclear) deal, there will be no agreement."
Discussions will resume on April 21, 2015, with a final settlement expected by June 30.
UN nuclear inspectors arrive in Tehran
The president's address came as UN International Atomic Energy Inspectors (IAEI) arrived in the capital to investigate suspicions Iran has been working on creating nuclear weapons.
Iran denies the charge.