Uruguay: mourners pay tribute to acclaimed writer Eduardo Galeano
Comments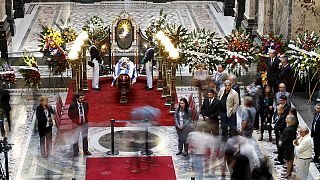 Mourners have gathered at Uruguay's Legislative Palace to pay their their final respects to Eduardo Galeano.
The journalist and author died earlier this week after a battle with lung cancer.
Uruguay's president is among those paying tribute to Galeano, a man regarded as a leading light in Latin America's anti-capitalist movement.
"He has been an outspoken speaker on the cruel reality of our very diverse Latin America. He was a gladiator giving a voice to those who are most humble, those who don't have a voice," said Tabare Vazquez.
Peruvian author and Nobel laureate Mario Vargas Llosa has put aside political differences to also pay his respects to Galeano.
"He created an image of Latin America that was a caricature, dogmatic, profoundly mistaken," said Llosa.
"But this does not stop me from recognising that he was an excellent journalist and his passing is undoubtedly a significant loss for the culture of our language and for our Uruguayan culture."
Galeano's writing career spanned half a century. He is best known for his seminal 1971 book called "The Open Veins of Latin America."
The work describes the colonial-era scramble for the region's riches by European powers, followed by Britain and America's economic dominance in the twentieth century.