Movie-makers and critics pull out of Istanbul Film Festival amid censorship row
Comments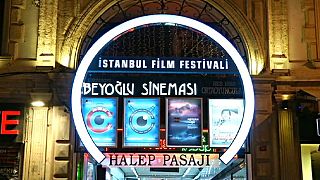 Nearly two dozen movie-makers and a group of international critics have pulled out of the Istanbul Film Festival, amid a censorship row.
The government has blocked the screening of a film about Kurdish militants, citing paperwork issues.
The festival competition has been called off.
"We are asking the freedom of showing the films that we are selecting in our programme, without requiring any documents within the context of festivals and cultural activities, which is happening like everywhere else in the world," said Azize Tan, festival director.
"If a film doesn't get that document, what happens is that the film is censored in that sense."
The barred film – "North" – documents the lives of militants from the outlawed Kurdistan Workers Party, or PKK.
The government says 'PKK propaganda' has no place in a democratic society.
"Cinemas have to be open to the public. I mean, you buy your ticket go and watch the film and after you tell what you think about it. You shouldn't be afraid of that. This is not helping the peace process," said Erol Mintas, a film director.
The cinema industry says the blocking of "North" is the latest example of censorship in Turkey.
The country's frequent crackdowns on political expression critical of the government's position – including on social media – have alarmed activists.
Speaking from Istanbul, euronews reporter Wolfgang Spindler said: "The result of this political intervention is that most important Turkish film festival will neither have an award nor a closing ceremony. It may also make already difficult relations between Turkey and Kurds even worse. A sad outcome."