Japan: passenger planes skids off runway at Hiroshima airport
Comments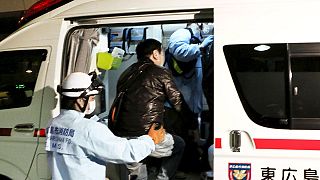 Around 20 passengers have suffered minor injuries after a planned skidded off the runway at Hiroshima airport in western Japan.
The Airbus A320, operated by Asiana Airlines, was arriving from Seoul in South Korea.
It was reportedly carrying 74 passengers and seven crew.
Those on-board were evacuated using escape chutes, and no-one was seriously injured.
The cause of the incident is being investigated. According to reports, the airport told fire officials that part of the jet touched the runway when it came in to land, causing some sparks.
An Asiana Airlines flight crashed two years ago as it approached San Francisco's airport.